Stadium History Coming Soon...
---
---
Thoughts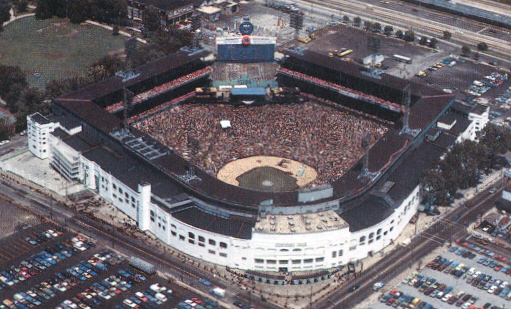 Getting There
There was plenty of parking by Comiskey, and it was easy to get there taking the Dan Ryan Expressway. You could also have taken the Red Line of the El that, just like the stop at Wrigley Field, would drop you off considerably close to the stadium.
9/10
Tickets and Seating
Tickets at Comiskey were always fairly reasonable, and the White Sox always had great promotions and discounts. The park was also a great classic ballpark and had an intimate atmosphere that doesn't exist in newer parks and apart from a few obstructed-view seats you got a great view from pretty much anywhere.
9/10
Exterior
Comiskey Park was a beautiful classic ballpark. The red and white brick was complemented well with the green steel inside the park and the main entrance, while not as cool as the entrance on the north side of town at Wrigley, was pretty cool.
9/10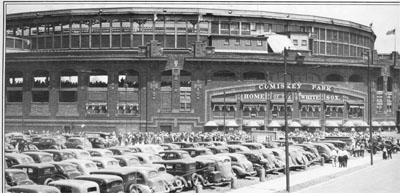 Interior
The inside of Comiskey was not nearly as cool as the outside, unless you count the scoreboard, which was epic. The inside of the stadium was pretty simple, but the atmosphere made up for it.
6/10
Scoreboard
The exploding scoreboard was a Bill Veeck invention, and was the coolest scoreboard in the majors before the advent of HD video screens. They tried to mimic it at U.S. Cellular, but it isn't nearly as impressive.
10/10
Sound
Nancy Faust was one of the best organists in the game, and helped start the "Na-na-na-na" chant when managers and pitchers left the game. Harry Caray also leant his voice to Comiskey before heading north to Wrigley.
10/10
Fans
Even though they don't always turn out for games, White Sox fans are pretty knowledgeable. Just like the fans across town it isn't uncommon to see fans standing in their seats in the early innings, and you can talk to just about anyone and they will have a good amount of knowledge of the game. They aren't always the nicest when you show up to the game wearing a Cubs' jersey, but whose fault is that?
8/10
Ushers and Trading Up
The ushers were pretty nice at Comiskey, and trading up was a pretty common occurence. Things have changed a bit at the new park, though.
10/10
7th Inning Stretch
While the practice of the 7th inning stretch didn't start at Comiskey (the origins of it are actually unknown and widely debated) Harry Caray began to lead the crowd in the stretch at Comiskey, and that earns it major points.
10/10
Surrounding Area
Going to Comiskey Park meant going to see a baseball game. There wasn't much else to do in the area after a game and there still isn't now with the Cell.
1/10
Final Score: 80/100 B-