Home of the Nationals in Washington, D.C.
Stadium History Coming Soon...
---
---
Thoughts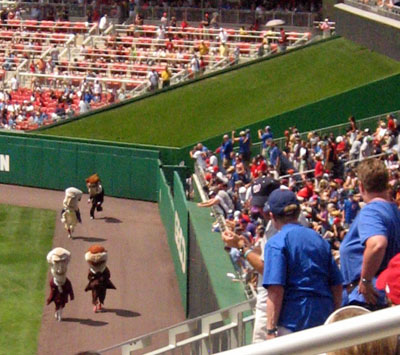 Getting There
There wasn't too much parking around Nationals Park when I visited, but if you are willing to park more than a block or two away you can do it for incredibly cheap. The Metro also has a stop a block away from the stadium so even with the lack of parking it is pretty easy to get to the stadium.
8/10
Tickets and Seating
Why are tickets to a Nationals game so expensive? I know they have a shiny new stadium, but when you are trying to build a fan base having some of the most expensive tickets in baseball doesn't help matters. The seats are okay. It doesn't have the intimate feel of older stadiums, but it isn't as cavernous as some newer stadiums.
6/10
Exterior
The outside of Nationals Park is pretty bland. There is a lot of white and gray, which sort of fits with the modern architecture in D.C., but a more obvious nod to D.C. architecture would have been much nicer. There is some history of D.C. baseball outside, but other than that there isn't much. The Navy Yard area will probably be built up in the coming years, but right now it is pretty much a construction site.
5/10
Interior
There is plenty to do inside Nationals Park if you aren't interested in watching one of the worst teams in baseball. The stadium is following the tradition of the ball mall started by parks like Comerica where you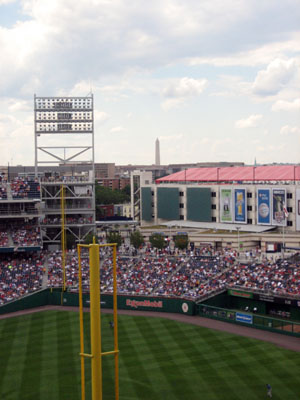 feel like you are going through a shopping mall as opposed to a ballgame. The difference with Comerica is you can see the game from pretty much anywhere in the park while that isn't always the case at Nationals Park. It would also have been great if there were better views of the awesome D.C. skyline. As it is you can see the Washington Monument from some parts of the stadium, but you can only see the Capitol from one little corner.
5/10
Scoreboard
When Nationals Park was first built the scoreboard contained the largest HD screen in the world. It is definitely the coolest aspect of the stadium and is by far the sharpest board in the majors. It has a cool analog clock and the advertising doesn't overpower the board itself. The out-of-town scoreboard shows everything you could ask for as well.
10/10
Sound
The sound doesn't seem to carry very well at Nationals Park, but they have a real organ and they use it more than any other modern park I have been to. They still play popular music a lot, but the organ music is blended in nicely.
8/10
Fans
There were so many Cubs fans at the game you would think you were at Wrigley Field. It will take some time to build a fan base in D.C., but right now there are few fans at the games and the enthusiasm just isn't there.
5/10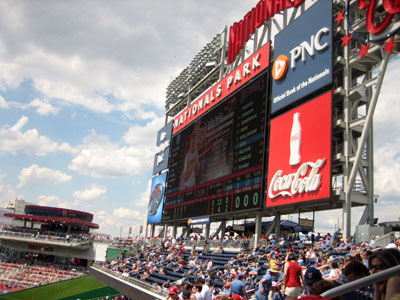 Ushers and Trading Up
The ushers are pretty friendly, but they are also pretty vigilant about checking tickets, especially in the lower levels. With a park that I imagine is pretty empty if the Cubs aren't in town it would be nice if they let people trade up.
7/10
7th Inning Stretch
"Take Me Out" with a real organ and they follow with "Shout" for whatever reason. I'm not sure if that's going to be a tradition, but it is kind of weird. The best tradition they have is the president's race where Abe, George, Teddy, and Thomas sprint in a nod to the sausage race at Miller Park.
7/10
Surrounding Area
If you like construction sites you will love the area around Nationals Park. I'm sure it will be nicer in the next few years, but for now it is pretty desolate.
3/10
Final Score: 64/100 D