Stadium History Coming Soon...
---
Getting There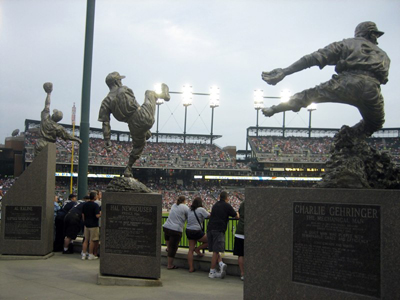 Driving to Comerica is pretty easy as the park is just off I-75 (+1) and there is plenty of parking (+1). You can park steps from the park for just over $20 (+1), but incredibly affordable parking is available if you are willing to walk 4 or 5 blocks (+1). As an alternative to driving you can pay $3 for a round-trip bus ticket (+1). There aren't any other public transit options that I know of (-1), but the bus is a pretty cheap option if you are near a bus stop.
Score: 9/10
Tickets and Seating
The Tigers have started instituting premium pricing for marquee games (-1), but the premium games are only a few bucks more expensive so it isn't as big of a deal as it is at other stadiums (+1). The premium pricing is also alleviated by the fact that the Tigers have some of the cheapest tickets in baseball (+1). The best seats in the park can be had for well under $100 (+1), which can cost hundreds of dollars at other stadiums. You have a decent view of the field from anywhere in the park (+1), but it can seem to be far away from the action (-1), especially in the upper deck. This is a problem with a lot of modern stadiums that don't want to have obstructed view seats. At least the ticket prices are pretty good.
Score: 7/10
Exterior
The outside of Comerica Park is fantastic (+1). It is pretty easy to tell what team plays in the stadium as there are tiger statues everywhere (+1). There are even claw marks on some of the stadium walls (+1). The best part is you can see directly into the park from one side of the stadium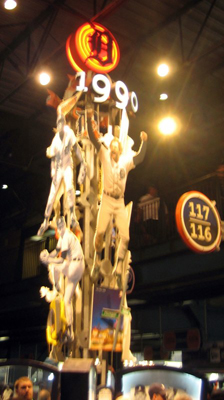 where you could watch the entire game if you were so inclined (+1). It's a great touch (+1), and something that was sort of mimicked with the knothole that was added to Wrigley Field.
Score: 10/10
Interior
Comerica Park has a ferris wheel, merry-go-round, and tons of other stuff for the kids (+1) (note: I would have ridden the ferris wheel if it weren't for the rain), but its best feature is the concourse. You can walk around nearly the entire stadium and still see the game (+1), which is a must for me when it comes to modern stadiums. There is also a lot of history at Comerica (+1) including a number of incredible statues that depict the players in action poses (+1) instead of just standing with a bat on their shoulders. If the seats weren't so far away from the field the interior of Comeria would be perfect. It even has ivy and other greenery on the inside to give it a bit of a natural touch (+1).
Score: 10/10
Scoreboard
The Comerica scoreboard is huge (+1), but not enough of it is devoted to stats (-1) and it isn't nearly as clear as some of the newer HD scoreboards in baseball (-1). There are two tigers atop the scoreboard who light up when the Tigers hit a homerun (+1) (I saw a few of these at the game I went to), but for as big as the scoreboard is I wish it had more information. There is also no classic touch (-1) to the scoreboard other than a little Tigers clock (+1) at the top.
Score: 5/10
Kid Friendly
The park has a ferris wheel (+1), batting cage (+1), and speed pitch (+1). Unfortunately, they all cost money (-1). Kids 14 and under can run the bases after Sunday home games as well (+1). There isn't a place for younger kids such as a play place, however (-1).
Score: 7/10
Fans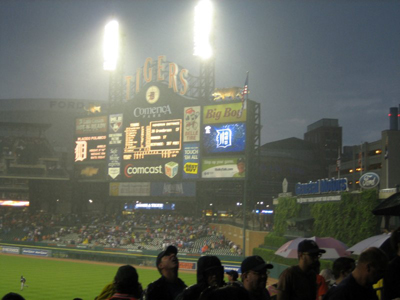 The Detroit fans seemed incredibly knowledgeable (+1) and into the game (+1). It was a pretty easy game to get into because the Tigers were playing well. There was a bit of good-natured heckling near the visitor's bullpen (+1), but nothing over-the-top like a beer tossing. Overall, the fans seem to be among the best in baseball I've met (+1).
Score: 9/10
Ushers and Trading Up
I sat in so many different seats (+1) I forgot where my original seat was (+2). It is incredibly easy to trade up (+1), but that is mainly because of the lack of ushers (-1), not necessarily because of how nice they are.
Score: 8/10
7th Inning Stretch
Because of the rain delay I didn't get to see the 7th inning stretch first-hand, but I've heard that it definitely involves "Take Me Out" (+1) and is pretty respectful of the great baseball tradition (+1). Is there a real organ, though? Inquiring minds want to know. They do sing Journey's "Don't Stop Beliving" in the 8th inning and focus on the "South Detroit" line (+1).
Score: 8/10
Surrounding Area
If there was a football game going on you could visit the nearby Ford Field...other than that the area around Comerica is pretty desolate (-1), and it is the only major downfall of the great stadium (-1).
Score: 3/10
Final Score: 76/100