Stadium History Coming Soon...
---
Getting There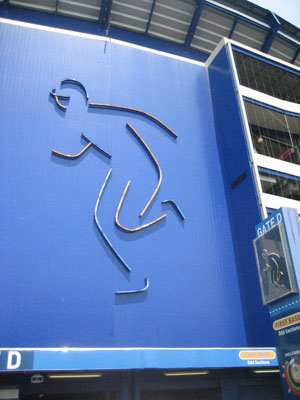 Although there is some parking available at Shea (+1) it is much easier to take the subway (+1). Arthur Ashe Stadium is across the street and if there is a tennis match going on parking is nearly impossible to find (-1).
Score: 6/10
Tickets and Seating
Shea Stadium was early on the "marquee" pricing trend (-1), and the tickets were already New York-expensive (-1). The seats aren't anything to write home about either as they are pretty far from the action (-1).
Score: 2/10
Exterior
There are a handful of trees surrounded by ugly steel fences outside the stadium (-1). The stadium itself is a blue monstrosity (-1) with neon art that harkens back to the 60s, but not in a good way (-1).
Score: 2/10
Interior
There are some posters of Mets greats throughout the stadium (+1) but other than that the place is pretty barren (-1). There is a lot of blue in the park just like on the outside, but it is one of the most bland stadiums I have been to (-1).
Score: 4/10
Scoreboard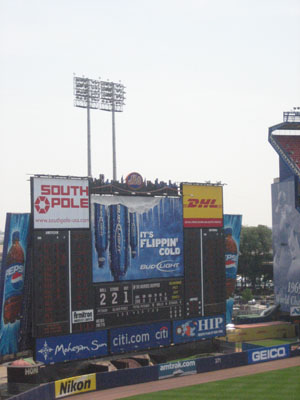 A single ad takes up more space on the scoreboard than anything else (-1). The scoreboard doesn't seem to have changed much since the 60s as there is no video and orange light bulbs distinguish the board from others...but, again, not in a good way (-1). At least it gives you information on every player (+1). The apple below the scoreboard that appears after Mets home runs goes up and down so fast it is pretty useless (-1).
Score: 3/10
Kid Friendly
There's a festival outside the stadium on weekends with activities for kids (+1), but nothing else (-3).
Score: 3/10
Fans
Mets fans are great (+1). They filled the stadium (+1) and they definitely knew their baseball (+1). There were standing ovations at appropriate moments (+1) and they even got into the 7th Inning Stretch (+1). Hopefully Citi Field turns out to be a great stadium because the fans certainly deserve it.
Score: 10/10
Ushers and Trading Up
I was expecting the ushers to be similar to those at Yankee Stadium, but I was pleasantly surprised at how nice they were (+3). Trading up even seems to be a possibility even though the game was too full to attempt it (+2).
Score: 10/10
7th Inning Stretch
"God Bless America" (+1) and "Take Me Out" (+1) bless the stretch at Shea Stadium. A real organ helps matters (+1) and the fans actually seem to be into it (+1). There isn't anything truly New York about it, though (-1).
Score: 8/10
Surrounding Area
The area around Shea is a bunch of highways (-1) and parking lots (-1). You need to take the subway out of the area to find anything decent to do after a game.
Score: 3/10
Final Score: 51/100