Stadium History Coming Soon...
---
Getting There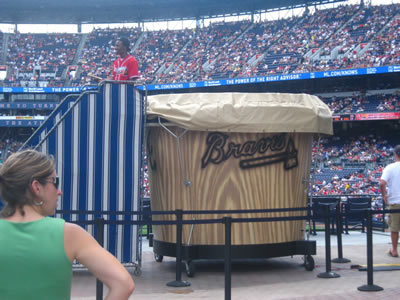 There is public transportation available to Braves' games via the MARTA (+1), but it can involve a lot of transfers so driving is usually your best option. Parking is plentiful (+1) and cheap (+1) around the Olympic Park area and you are within walking distance of the Georgia State Capitol (+1).
Score: 9/10
Tickets and Seating
There is a fairly large amount of foul territory, which makes the seats seem a bit further from the action (-1), but the upper deck doesn't have as extreme of a view as some stadiums (+1) like Miller Park and US Cellular before it was renovated. The tickets aren't horribly expensive (+1) and there are a number of "Value Days" where you can purchase seats for as little as $10 (+1).
Score: 7/10
Exterior
The Stretch started with an incredibly-drawn-out version (-1) of "God Bless America" (+1) by a country singer I hadn't heard of and I think most of the fans were put to sleep because "Take Me Out" was pretty tame. "God Bless America" isn't suppose to be a song that puts people to sleep. After "Take Me Out" (+1) they played a lot of southern music, which is befitting of Atlanta (+1), but hopefully "Take Me Out" doesn't always go the way it did during our visit.
Score: 7/10
Interior
Ted Turner's influence clearly shows inside Turner Field as there is a huge section for kids with a Cartoon Network theme (+1). There is a man who plays a giant drum during games (+1) and huge ads for Coca-Cola and Chick-fil-a, which are Atlanta staples, atop the left-field stands (+1). There is also a small Hall of Fame in the stadium (+1), but it is really easy to miss. The brick and green steel continues inside the stadium (+1) and the only fault on the inside is that there are numerous areas of the concourse where you can't see the game (-1), but few stadiums built in the '90s had that feature so it isn't a surprise.
Score: 9/10
Scoreboard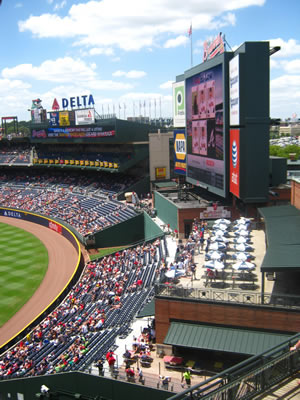 The scoreboard is a fairly new HD videoboard that shows everything you could ask for clearly (+1). The ads around the video screen hearken back to Yankee Stadium and other classic stadiums (+1). The out-of-town scoreboard shows the scores as well as some details that you don't always get at other stadiums such runners on base (+1). While the videoboard isn't the biggest in baseball, the classic touches (+1) and clarity of information (+1) still make it one of the best.
Score: 10/10
Kid Friendly
(+1)
Turner Field has a bevy of things for kids to do other than watch the game. For older kids, there are baseball skill challenges (+1) in Scout's Alley. Sky Field lets kids run the bases (+1) and you can even see the game along with a great view of downtown Atlanta (+1). Kids can run the bases on the real field on Sundays (+1), but you have to be a member of their kids club (-1). There is also a huge playground for kids that was Cartoon Network-themed when we attended a game (+1).
Score: 10/10
Fans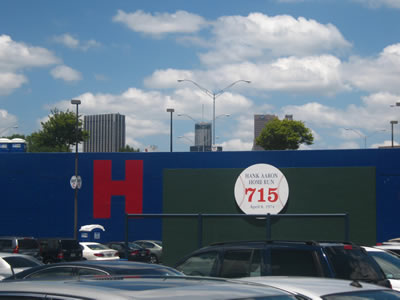 There is a lot to see outside of Turner Field, although some of it may be closed off on non-game days. The old location of Fulton County Stadium is marked via an outline of the stadium (+1) and a marker is in one of the parking lots memorializing Hank Aaron's 715th home run (+1). There are a number of statues of great Braves' players just inside the stadium gates and the stadium itself is a classic brick stadium with dark green steel highlights (+1) similar to the look of Coors Field and Miller Park without the giant walls of glass (+1). Very few stadiums can match the exterior of Turner Field (+1).
Score: 10/10
Ushers and Trading Up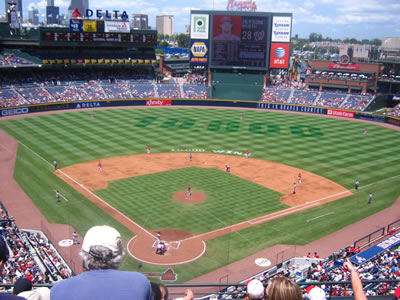 The ushers are very pleasant (+1) and exude southern charm (+1). Even though they patrol the box seats they don't do so with the ruthless abandon of the ushers in Oakland (+1) and it is really easy to trade up (+2).
Score: 10/10
7th Inning Stretch
The fans really get into the tomahawk chop, which may or may not be racist, but they also understand their baseball (+1) and get loud at appropriate moments, even early in games (+1). The stadium was fairly empty for a Sunday afternoon (-1), though, which was surprising given that the Braves were fighting for a playoff spot when we visited.
Score: 6/10
Surrounding Area
Turner Field was originally built for the 1996 Summer Olympics and a lot of the remnants of the games exist in Centennial Olympic Park surrounding the stadium (+1). The Georgia State Capitol (+1), as well as restaurants and other establishments (+1), is also nearby so there is plenty to be done as long as you are willing to walk a little.
Score: 8/10
Final Score: 86/100