Stadium History Coming Soon...
---
Getting There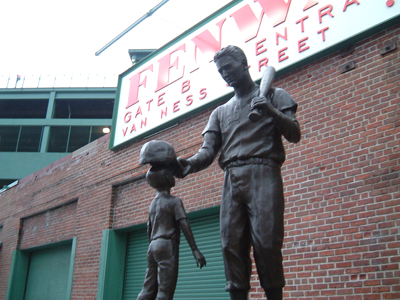 Getting There
Boston is absolutely the worst city to drive in (-1). Fenway, like Wrigley, is not a park to drive to, but you can drive if you are willing to park far away and still pay outrageous prices (-1). You can take the subway (+1) or train (+1) to Fenway, though, so it definitely isn't necessary to drive.
Score: 5/10
Tickets and Seating
The Red Sox charge higher prices for marquee games such as games against the Yankees (-1). They also have insanely expensive tickets (-1). When the average ticket price is over $100 you know you are going to have to pay a lot to get into the game. Tickets are also hard to come by so you might have to pay more than face value anyway (-1). Add to that the fact that so many of the seats, while close to the field (+1), are at an awkward angle (-1). You definitely feel a part of the game (+1), but you will also feel a slight pain in your neck after a few innings.
Score: 3/10
Exterior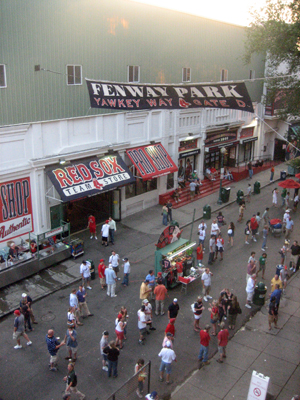 The area around Fenway Park is closed off during games (+1) so you can walk the streets and it feels like one big party (+1). You can see the Green Monster from outside the park and the red brick is classic baseball (+1). There are banners and statues (+1) and plenty of history outside the stadium and it is one of the best stadium exteriors in the game (+1).
Score: 10/10
Interior
The Green Monster is an awesome sight to behold (+1) and, just like at the old Yankee Stadium, you can feel the history of the place (+1). Fenway feels more like a classic ballpark (+1), though, since it has remaining largely unchanged since it first opened (+1). The only problem is how cramped the place is (-1), but seeing how many seats they crammed into the place it isn't surprising.
Score: 8/10
Scoreboard
The videoboard at Fenway is pretty good for an older screen (+1). It shows all the stats you need to know (+1) and looks pretty decent (+1). The manually-operated out-of-town scoreboard is great (+1), although they don't update it as quickly as the incredible operators at Wrigley.
Score: 9/10
Kid Friendly
Fenway is an older park so it doesn't have a playground for kids (-1), but it does have an area called Wally's Clubhouse. The Clubhouse has activities for kids such as face painting, magicians, and balloon artists (+1). There is also a small toddler play area (+1). One drawback is that it is only open from the third through the seventh innings (-1), and it isn't open at all for some games (-1).
Score: 4/10
Fans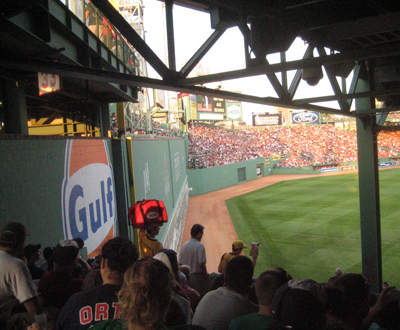 Red Sox fans know their baseball (+1), and know how to heckle (+1). The fans are always into the game (+1) and there aren't as many people there who are just going to see the stadium like there are at Wrigley (+1). The Red Sox had a long period of suffering like the Cubs and that seems to breed pretty knowledgeable fans (+1).
Score: 10/10
Ushers and Trading Up
The ushers at Fenway are great (+1), but good luck trading up (-1). Games are routinely sold out (+1) and even standing room can be hard to come by. The ushers won't wipe off your seat for you like they do at PNC Park but they definitely seem to be happy working in such a great office (+1).
Score: 7/10
7th Inning Stretch
"Take Me Out" is sung as usual (+1), but Red Sox fans have an even cooler tradition during the 8th inning when Neil Diamond's "Sweet Caroline" is sung (+1). It's a tradition that has been copied a lot of other places (+1), but Fenway seems to have started the trend (+2).
Score: 10/10
Surrounding Area
There are a lot of restaurants (+1), stores (+1), bars (+1), and pretty much anything you can ask for around Fenway Park. The Upper Deck store on Yawkey Way has more memorabilia than I have ever seen in one place (+1). You won't be wanting for things to do around Fenway (+1).
Score: 10/10
Final Score: 76/100