Stadium History Coming Soon...
---
Getting There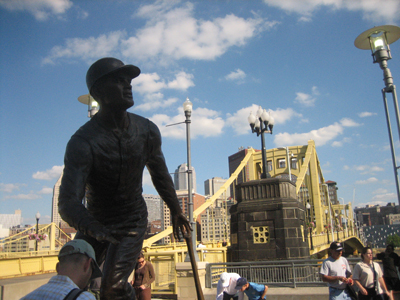 It is possible to drive to PNC Park and park nearby, but cheaper parking is available in downtown Pittsburgh (+1) and the walk across the Roberto Clemente Bridge is worth it (+1). There are busses available that stop at the park (+1), and there is even a water ferry you can take (+1). It isn't the easiest park to get to in the majors, but it is far from the worst.
Score: 8/10
Tickets and Seating
PNC is one of the few parks in baseball that doesn't have "marquee game" pricing (+1), though they do charge a little more on weekends. To make it even better the prices are incredibly reasonable (+1). But wait, there's more! PNC Park achieved what many thought impossible, the perfect melding of the classic ballpark with modern amenities (+1). The seats are all incredibly close to the action (+1) and no matter where you sit you will feel like a part of the game (+1). That is what live baseball is suppose to be.
Score: 10/10
Exterior
PNC is another park, like Coors Field, that seems like it just grew out of the landscape (+1). There are incredible statues of Roberto Clemente and Willie Stargell (+1) and the Roberto Clemente Bridge provides one of the coolest walks to a stadium in baseball (+1). The view of the park from across the Allegheny River is breathtaking (+1), and when you cross the bridge to the park the view of downtown Pittsburgh is just as good (+1).
Score: 10/10
Interior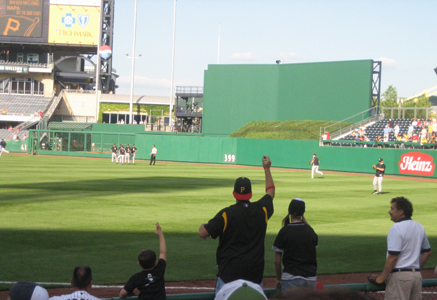 The park feels small and intimate like classic parks such as Fenway and Wrigley (+1), but it still has all the modern amenities fans have come to expect (+1). Although you can't walk around the entire perimeter and still see the game (-1) there is history abound (+1). You can even walk along the river while the game is going on (+1). The inside also gives you the great view of the river and downtown Pittsburgh (+1).
Score: 9/10
Scoreboard
The scoreboard is big (+1) and shows you everything you could ask for (+1), even if it isn't as clear as some of the newer scoreboards in baseball. The out-of-town scoreboard in the outfield is good as well, and shows the score, inning, outs, and baserunners for every game (+2). There really isn't any touch of classic baseball with the scoreboard, though, which is the only knock against it (-1).
Score: 8/10
Kid Friendly
There is a kids play area near right field with a mini baseball field (+1) and a playground (+1). There is also a Family Fun Zone just outside the park that has activities for kids up until game time (+1). Finally, on select Sundays kids can run the bases at PNC (+1).
Score: 9/10
Fans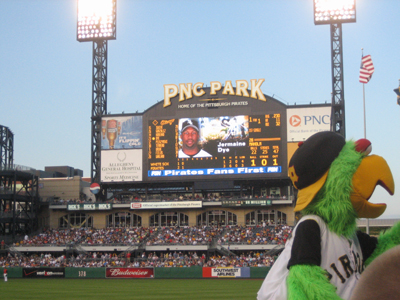 You can't fault the fans for not really caring. Even though they have what could be the best new park in baseball it is very easy to get a seat and they don't really seem to get into the game that much (-1). At the game I went to there weren't even that many Pirate fans around me. There were a handful of White Sox fans along with a small group of Mets fans. Maybe if the Pirates could finish above .500 one of these years the fans would really start coming out for games.
Score: 4/10
Ushers and Trading Up
The ushers might be the nicest in baseball (+1). They even wipe off your seat before you sit down (+2). They also don't seem to mind trading up (+1) as I was able to sit in the expensive seats behind home plate for a while (+1). Nothing to complain about here.
Score: 10/10
7th Inning Stretch
They sing "Take Me Out" (+1) but no one really seems into it (-1) and there isn't much that makes it unique (-1). This is one area they could improve upon, but at least they have the pierogi race during the sixth inning (+1).
Score: 5/10
Surrounding Area
There is a lot to do around PNC Park. There are plenty of restaurants (+1), bars (+1), and places to go that are a part of the stadium itself (+1). In addition, downtown Pittsburgh isn't that far away (+1). It should be easy to find something to do after a game (+1).
Score: 10/10
Final Score: 83/100