Stadium History Coming Soon...
---
---
Thoughts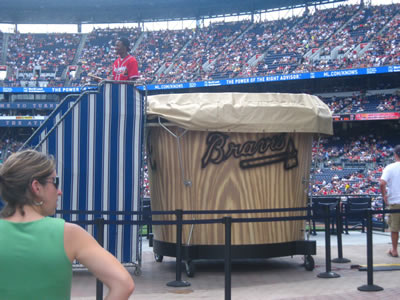 Getting There
There is public transportation available to Braves' games via the MARTA, but it can involve a lot of transfers so driving is usually your best option. Parking is plentiful and cheap around the Olympic Park area and you are within walking distance of the Georgia State Capitol.
8/10
Tickets and Seating
There is a fairly large amount of foul territory, which makes the seats seem a bit further from the action, but the upper deck doesn't have as extreme of a view as some stadiums like Miller Park and US Cellular before it was renovated. The tickets aren't horribly expensive and there are a number of "Value Days" where you can purchase seats for as little as $10.
8/10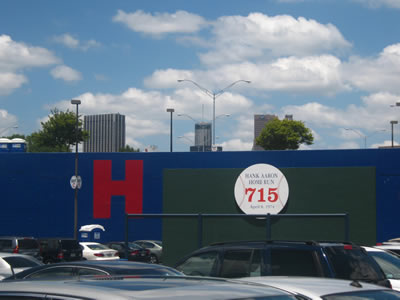 Exterior
There is a lot to see outside of Turner Field, although some of it may be closed off on non-game days. The old location of Fulton County Stadium is marked via an outline of the stadium and a marker is in one of the parking lots memorializing Hank Aaron's 715th homerun. There are a number of statues of great Braves' players just inside the stadium gates and the stadium itself is a classic brick stadium with dark green steel highlights similar to the look of Coors Field and Miller Park without the giant walls of glass. Very few stadiums can match the exterior of Turner Field.
10/10
Interior
Ted Turner's influence clearly shows inside Turner Field as there is a huge section for kids with a Cartoon Network theme. There is a man who plays a giant drum during games and huge ads for Coca-Cola and Chick-fil-a, which are Atlanta staples, atop the left-field stands. There is also a small Hall of Fame in the stadium, but it is really easy to miss. The brick and green steel continues inside the stadium and the only fault on the inside is that there are numerous areas of the concourse where you can't see the game, but few stadiums built in the '90s had that feature so it isn't a surprise.
9/10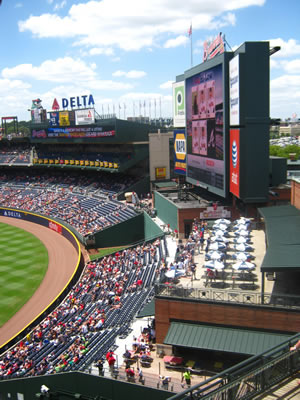 Scoreboard
The scoreboard is a fairly new HD videoboard that shows everything you could ask for clearly. The ads around the video screen hearken back to Yankee Stadium and other classic stadiums. The out-of-town scoreboard shows the scores as well as some details that you don't always get at other stadiums such runners on base. While the videoboard isn't the biggest in baseball, the classic touches and clarity of information still make it one of the best.
10/10
Sound
Turner Field seems to be one of the few places that still has an organist, and the organist seems to have a personality. Playing "Jesus Is Just Alright" while Jesus Flores comes to the plate or a Stevie Nix song when Laynce Nix is batting is a great nod to classic baseball. They play each player's hand-picked song when the Braves are at the plate like most modern stadiums, but the organ is a great addition. The giant drum also provides some more great background sound and really echoes through the stadium.
10/10
Fans
The fans really get into the tomahawk chop, which may or may not be racist, but they also understand their baseball and get loud at appropriate moments, even early in games. The stadium was fairly empty for a Sunday afternoon, though, which was surprising given that the Braves were fighting for a playoff spot when we visited.
7/10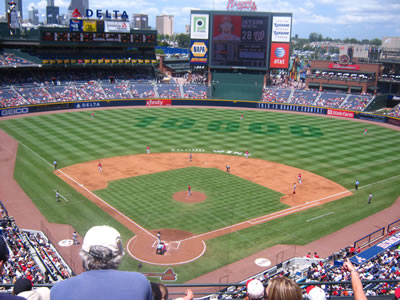 Ushers and Trading Up
The ushers are very pleasant and exude southern charm. Even though they patrol the box seats they don't do so with the ruthless abandon of the ushers in Oakland and it is really easy to trade up.
10/10
7th Inning Stretch
The Stretch started with an incredibly-drawn-out version of "God Bless America" by a country singer I hadn't heard of and I think most of the fans were put to sleep because "Take Me Out" was pretty tame. "God Bless America" isn't suppose to be a song that puts people to sleep. After "Take Me Out" they played a lot of southern music, which is befitting of Atlanta, but hopefully "Take Me Out" doesn't always go the way it did during our visit.
6/10
Surrounding Area
Turner Field was originally built for the 1996 Summer Olympics and a lot of the remnants of the games exist in Centennial Olympic Park surrounding the stadium. The Georgia State Capitol, as well as restaurants and other establishments, is also nearby so there is plenty to be done as long as you are willing to walk a little.
8/10
Final Score: 86/100 B