Stadium History Coming Soon...
---
Getting There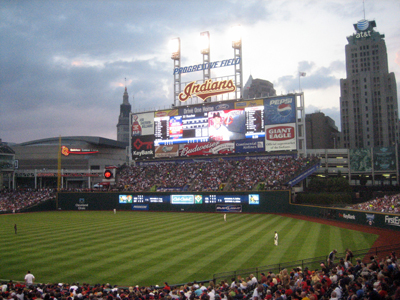 There is a lot of parking around Progressive Field (+1), and even with Quicken Loans Arena across the street you can easily find a space (+1). You'll still pay quite a bit even if you parked blocks away (-1), though, since the field is in downtown Cleveland. You can also take the train (+1), which will drop you off just a few blocks from the park so that could be a good option (+1).
Score: 8/10
Tickets and Seating
Cleveland's tickets are below the league average (+1), even with the fact that the team has been pretty good over the past few years. They don't have a crazy pricing structure like some teams (+1), but they do charge extra a little more for some games like weekends. The seats themselves leave a lot to be desired. Most seats are really far away from the action (-1) and, like at Fenway, the seats can be at weird angles so you have to turn your neck to see home plate (-1). Of all the things to emulate about Fenway why would you choose the seats?
Score: 5/10
Exterior
There is an area outside the stadium where you can see the game (+1), which is a nice trend that has been used by a few new stadiums including Comerica Park and the knothole at Wrigley. There is a statue of Bob Feller outside (+1), but other than that the stadium doesn't really have anything to distinguish itself from other parks.
Score: 7/10
Interior
The first thing you will notice inside Progressive Field is the luxury suites, which take up an inordinate amount of space (-1). The park has a nice Hall of Fame area with plaques of a lot of Cleveland greats (+1). There is also a picnic area in center field (+1) and the fact that you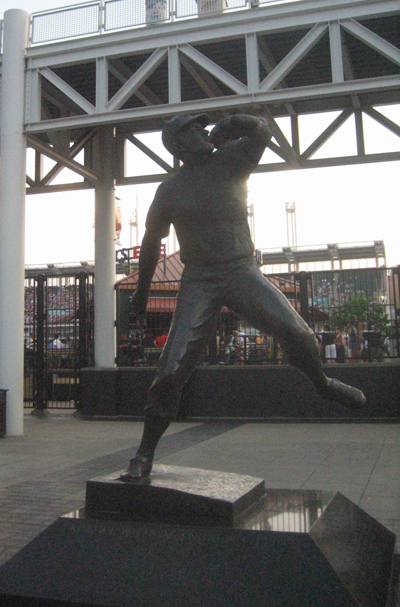 can walk almost the entire concourse and still see the game is always worth some points (+1). The interior architecture doesn't really stand out, but you do get a nice view of downtown Cleveland (+1).
Score: 8/10
Scoreboard
The scoreboard at Progressive Field is huge (+1), but most of the space is taken up by the ads around the perimeter (-1). The video itself is not bad for an older modern park, and it does give you all the information you would want (+1). The out-of-town scoreboard is on the fence below the main scoreboard (+1), but it doesn't show all the games at one time so you have to wait to see the game you are looking for (-1). There is also no touch of classic baseball in either scoreboard (-1).
Score: 5/10
Kid Friendly
The Guardians have a Family Deck where kids can play on a mini baseball field (+1), slide down a two-story slide (+1), ride around in mini cars, or participate in baseball skills challenges (+1). You can't see the game from the Family Deck, though (-1). Like most teams, the Guardians allow kids to run the bases after Sunday home games (+1).
Score: 8/10
Fans
The Guardians went through a long period of losing that seems to make fans more knowledgeable (+1) for whatever reason (see fans at Fenway and Wrigley). They didn't seem too into the game I went to, but that could have been because the Guardians had just went through a fire sale at the trade deadline and traded C.C. Sabathia to the Brewers. The fans at least knew their baseball (+1) even if there wasn't much to cheer in the 11-4 loss.
Score: 7/10
Ushers and Trading Up
The ushers at Progressive Field are almost worse than those at Yankee Stadium. They will stare you down if you even have a thought of sneaking into some better seats (-1). Trading up at Progressive Field is probably harder than any other stadium in baseball that doesn't regularly sell out (-1).
Score: 3/10
7th Inning Stretch
During the stretch at Progressive Field they play "Take Me Out&quot (+1). During the middle of the eighth they play "Hang on Sloopyquot; to honor Ohio State University (+1). Fans even spell out O-H-I-O during the song (+1).
Score: 7/10
Surrounding Area
Progressive Field is right in the heart of downtown Cleveland (+3) so there is plenty to do around the stadium. You could even take in a concert at Quicken Loans Arena which is right across the street (+1).
Score: 9/10
Final Score: 67/100